Is a new initiative and replaces the Girls Charley Cricket Programme. It is an all-inclusive Soft and Hard Ball programme with winter training, summer matches and Festivals. This is the entry point of the Hertfordshire County Cricket Girls Performance Pathway for School Years 4 & 5 and all players must qualify to be part of the Hertfordshire pathway by either living / going to school /playing for a Cricket club within Hertfordshire.
There is no nomination process or trials for this programme and is aimed at players who are ready to transition into hard ball cricket.
The programme will run throughout the Winter at Chancellors School, Brookman's Park, Nr Hatfield on Wednesday evenings between 6pm - 7pm and we are now taking bookings for the 12 week Autumn term starting on 22 September to 15 December (no session on 27 Oct - Half Term), the cost for the Autumn term is £120.00
There is likely to be great interest in the Programme this winter and spaces are limited.
Bookings* can only be made online using the following link:
*Payment via credit or debit card is required at the time of booking.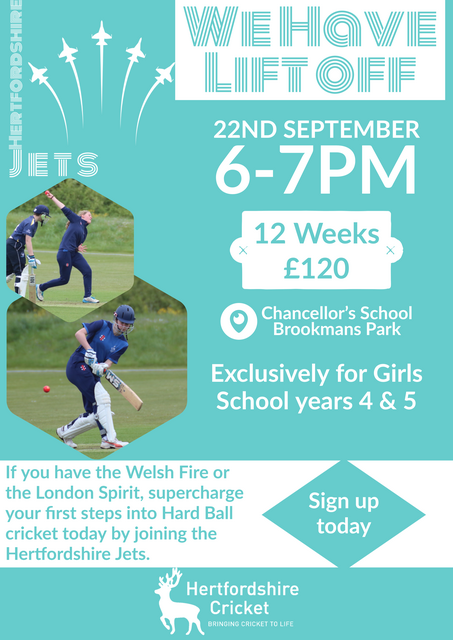 Terms and Conditions for our winter bookings can be found here.