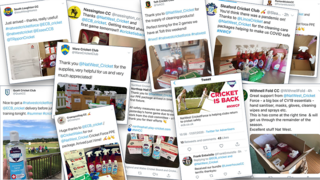 Many clubs across the country have now been able to enjoy two weekends of cricket and over 1,800 clubs have received their NatWest CricketForce PPE package. There is still time for Hertfordshire Clubs to sign up and receive your pack - all you need to do is sign up here.
This week's update includes a phase 2 launch of Spacehive, some checklists to help you navigate your return to the game, some printable signage and a recap of the Grants and Loans updates.
SPACEHIVE PHASE 2 OPEN NOW
As part of the new NatWest CricketForce 2020 campaign, we are delighted to be opening phase 2 of the Spacehive crowdfunding campaign to help local cricket clubs across the country return to cricket. As with the last round of funding, the ECB will be providing all clubs who raise £100 towards supporting with return to cricket activities with a further £100. See below for our stats from phase 1! For a full list of previous successful campaigns, simply click here.


THE OPPORTUNITY

Clubs can create a crowdfunding campaign on Spacehive to support their return to cricket
ECB will help get your campaign off to a flying start by pledging £100 as soon as your campaign goes live
You are required to raise at least £100 more to lock in the ECB pledge
HOW IT WORKS
Sign up to the Spacehive platform here
Set up your crowdfunding page between now and 31 August. The Spacehive team will be on hand to guide you through this process.
The ECB pledge will appear as soon as your campaign is live
Run your crowdfunding campaign throughout August and the end of September
Receive the money you raise by end of September
Clubs already using Spacehive:
The ECB can only pledge £100 to your centre once. If you have already run a campaign on Spacehive which received the £100 you will not receive another ECB pledge. You can however decide to run another campaign on Spacehive , and while you will not receive a pledge, you will still be supported by the Spacehive team.
CHECKLISTS AND SIGNAGE FOR CLUBS RETURNING TO THE GAME
Following the updated guidance that we shared with you last week please find below printer friendly NatWest CricketForce checklists and some useful tips documents to support you with your return to cricket.
All documents and signage can be accessed here. Below is a list of documents you will find.
Return to Cricket Umpire Template
Return to Cricket Member Template
Return to Cricket Players Template
Return to Cricket Opposing Team Template
Return to Cricket Club Activity Checklists
17 printer friendly signage posters
GRANTS AND LOAN UPDATES
Following the email that we shared with you on Monday, please find below a summary of the changes to the Emergency Support Programmes for clubs and leagues. The full details can be found here.
ECB is extending the Return to Cricket Grant Scheme until December 2020.
The differential funding level between clubs with junior sections and adult only clubs and the recommended £15,000 turnover limit have been removed.
The Emergency Loan Scheme has increased the amounts that can be loaned and the scheme will open indefinitely.
The League Emergency Loan Scheme remains unchanged, and is open indefinitely
OTHER NATWEST CRICKET FORCE RESOURCES


England & Wales Cricket Board
22 July 2020