.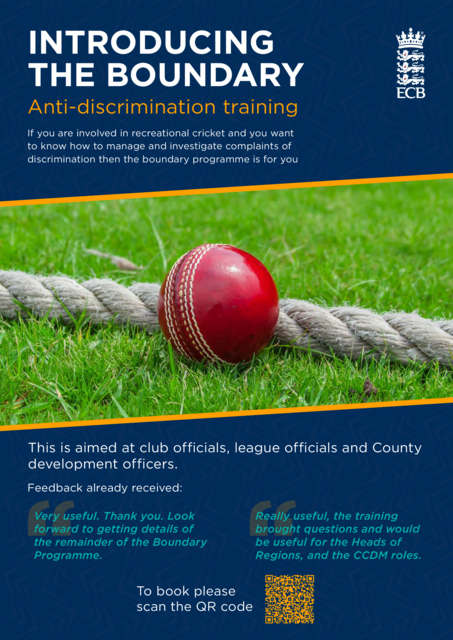 The ECB have recognised that there is a need to support CCB's and leagues with their handling of complaints related to matters of discrimination. The Boundary programme is a 5-tier modular programme which is designed to equip those within recreational cricket with the knowledge and skills to minimise the risk of discrimination, both on-field and in relevant off-field situations, and to effectively respond to those incidents that do unfortunately occur.
This first module – Introducing the Boundary, aims to assist CCB's and Leagues for the upcoming season. Further modules aim to be delivered later on this season and into 2024
The first module includes

The reporting process.
Different types of discrimination
Legislation
How to address discrimination and investigate
The training will be face to face and will be delivered by Geoff Robinson from Buckingham solutions and members of the ECB anti-discrimination unit. It will take place in various locations around the UK. If you have concerns about discrimination complaints, and want to know how to best deal with those that arise, then this training will help you and your organisation.
---
Course venues and dates:
Durham - 11th April
Yorkshire - 12th April
Old Trafford - 13th April
Kia Oval - 17th April
Kent - 18th April
Ageas Bowl - 19th April
Trent Bridge - 24 April
Edgbaston - 25 April
Cambridge - 26 April
Sophia Gardens - 2nd May
Exeter - 3rd May