.
On Wednesday 4th December Hertfordshire Cricket's Club and Community Manager and Hertfordshire CCC Batsmen, Dominic Chatfield received the Wilfred Rhodes Trophy for the highest batting average in Minor County Championship matches last summer at a lunch in the pavilion at Lord's.
In six three-day matches he scored 627 runs at an average of 69.67 with a highest score of 174 not out against Northumberland. This trophy was introduced in 1955 and Dominic becomes the fifth Hertfordshire batsman to win the award following in the footsteps of David Ottley in 1982, David Ward in 2001, Andy Lewis in 2007 and Tanweer Sikandar in 2015.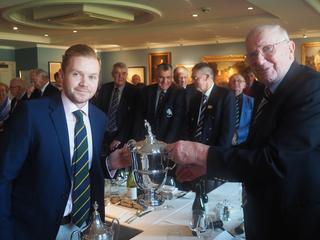 Dominic receiving the Wilfred Rhodes Trophy from the MCCA President, John Pickup.
Many congratulations, Dominic.