.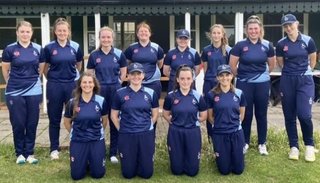 HERTFORDSHIRE WOMEN 2021
The Hertfordshire Women's team continued from where they left off in 2020 by winning 2 trophies and also remaining unbeaten in the league T20 competitions.
In the ECB Womens County T20 East Group, Norfolk were beaten by 10 wickets and then 93 runs. Suffolk by 18 runs and 43 runs and Huntingdonshire by 10 wickets. The second game against Huntingdonshire was abandoned with Hertfordshire in a good position at 81/1 off 10 overs.
The team winning the league unbeaten with 5 wins and 3 games were cancelled or abandoned.
As well as very good team performances there were very good individual performances. The batting was led by skipper Kezia Hassall with two half centuries with an average of 89. Amelia Kemp also hit a half century and along with Catherine Cirkel sealed the 10 wickets win against Norfolk. Elsa Barnfather and Mille Dyer took the team over the line in the 10 wickets win over Hunts and when the team were in trouble at Suffolk at 15/4 after 7 overs, a 61 run partnerships between Charlotte Banks and Kezia put the team back on track.
The spinners dominated the wicket's column with Ella Phillips (12), Lydia Borbas (7) and Catherine (6) topping the charts. Ella had incredible figures of 5/2 against Norfolk as well as 4/8 at Huntingdonshire. Lydia managed to better Ella figures with 4/5 in the same Huntingdonshire innings.
The seamers also impressed with tidy spells, in particular Charley Phillipe 3/17 against Norfolk and Amelia took 5 wickets for less then 5 a piece over the T20 season.
Over the season only Suffolk manged to score over 100 in an innings, while Norfolk were bowled out for 57 and Huntingdonshire for 37.
At the end of the season in the East of England T20 competition against Buckinghamshire the bowlers again restricted the opposition to under a 100 in both games. In game one a half century from Sarah Walker plus innings by Amelia (35) and Kezia (20) set Buckinghamshire 129 to win.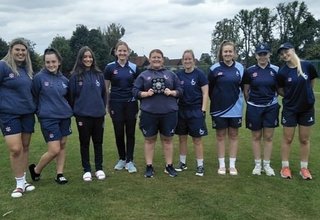 Two wickets each from Amelia, Lydia and Amba Parmar on debuted insured a 32-run win. In game two Amelia 3/11 and another two wickets from Amba restricted the chase to just under the 100. Lydia led the way with a fine 47 in the chase as the Buckinghamshire total was overhauled with 2 overs to spare.
The defence of the Soroptimist East of England County Championship 45 over competition started off with a defeat at Buckinghamshire, but the team managed to win 3 of the next 4 games to finish runners up to the eventual winners Buckinghamshire by only 3 points.
Skipper Kezia let the way with the bat continuing a truly remarkable season. In the 5 innings Kezia managed to score 492 runs at an average of 164 and a strike rate of 94.80. This included two centuries including an innings of 150 not out against Huntingdonshire, which is the highest score ever by a Hertfordshire Woman. The other century was a 139 v Lincolnshire, but you can also add an 88* not out v Cambridgeshire and 74 v Buckinghamshire. Amelia managed an innings of 71 in a record breaking first wicket stand of 190 v Kezia against Huntingdonshire and wicketkeeper Tilly Larkins scored 50 against Buckinghamshire.
Ella topped the bowling average again with 9 wickets including 4/9 against Huntingdonshire. Opening bowlers Charley and Mabel Reid managed a number of wickets between them with Mabel managing 3/40 in the win over Cambridgeshire. Other wicket takers included Katherine Webb, Imogen Lightning, Elizabeth Ruxton, Lydia, Catherine and Millie.
The Womens team also played a number of friendlies which provided great experience for youngsters such as Imogen, Amba, Lotty Hobson and Zara Wightman which looks good for the future of the Womens team.
Congratulations should also go out to Elsa Barnfather who made the Sunrisers Academy squad in 2021 and also Mabel Reid who made the Emerging Players Pathway also for the Sunrisers who are the regional team for the area. With the squads for the 2022 to be published in the near future it is hoped that a number of other Hertfordshire players will be added to the list.
Lastly congratulations should also go out to the Hertfordshire U18s girls' team who managed to top their 40 over group in 2021. I am not sure how many Hertfordshire teams over the years have managed to beat Middlesex, Essex and Northamptonshire counterparts in games in the same season but it is exactly what this team managed to achieve.
Tom Ruxton
Scorecards from ALL the Women's fixtures can be found HERE