.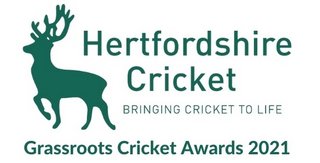 The winners of the Hertfordshire Grassroots Awards gathered for a fabulous day at Lord's Cricket Ground, for the Bob Willis Trophy Final, on Tuesday 29th September to receive their awards recognising their services to cricket as volunteers in the game.
We are recognising an incredibly talented, dedicated and passionate group of volunteers," says Iain Fletcher, Chief Executive Officer of HCL. "All these volunteers have made a huge difference to their cricket clubs, leagues and the people around them. It is important we recognise their contribution to the recreational game, making cricket across Hertfordshire stronger as a result of their hard work.
Also joining our Grassroots Awards winners were the winners from the Hertfordshire Association of Cricket Officials, Special Recognition Award winners and the Hertfordshire Coaches Association, Coach Award winners.
We are pleased to announce the Hertfordshire winners for 2021 are:
ECB / Hertfordshire Grassroots Awards

Cheshunt Rosedale Cricket Club- Connecting Communities
Rose Dovey, Letchworth Garden City CC - Inspired to Play
Sam Howlett, Bishop's Stortford CC - Game Changer (17-25)
Liz Cooper, Tring Park CC - Unsung Hero
James Hobbs, Knebworth Park CC - Growing the Game
David Lawrence, Potters Bar CC - Lifetime Achiever
Owen Watkins, Knebworth Park CC - Rising Star Award (11-16)
The Hertfordshire Association of Cricket Officials – Special Recognition Awards
John Sweedy – Behind the Scenes
Roger Abraham – Umpire
Richard White – Scorer
The ECB/Hertfordshire Coaches Association – Coach Awards
Amy Price – Young Coach of the Year
Richard Darwin - Services to Coach Development
Nick Harper – Coach of the Year
Mark Lawarne - Services to Coaching
Congratulations again to all the worthy winners of these awards.