Herts Cricket and GRS pair up to promote the game
Hertfordshire Cricket and GRS Group are pleased to announce a new partnership that will support the growth and development of cricket in Hertfordshire.
This exciting pair-up will see GRS – Britain's leading independent construction materials and waste services provider – become an official partner of Hertfordshire Cricket. The two will work together to promote the sport across the county and encourage more people – especially from under-represented groups – to get involved in playing and supporting cricket.
This will include joint initiatives, community outreach programs, and a whole host of events designed to promote the broader benefits of the sport to a wider audience. GRS staff will get involved as part of the company's community engagement activity. And the partnership will also give young people the opportunity to gain an insight into what it takes to work at a company like GRS which provides essential products and services to construction.
Antony Beamish & Iain Fletcher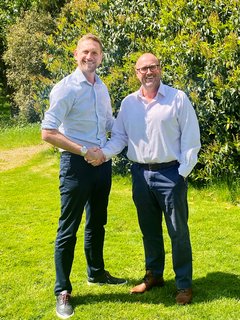 Hertfordshire Cricket CEO, Iain Fletcher said: "We are delighted to be partnering with GRS, a company that shares our passion for doing good within communities and sees cricket as a vehicle to achieve that. Sport can be a powerful force for good and already disabled and girls cricket across the county is benefiting from this partnership with GRS; over time that will only become stronger."
GRS Managing Director and keen cricketer Antony Beamish said: "We are delighted to be partnering with Hertfordshire Cricket, and working towards our shared vision of helping all sections of society through the provision of cricket. People are very much at the heart of what we do as a business and that positive can-do spirit is just the same whether it's in business or on the cricket pitch."
The partnership between Hertfordshire Cricket and GRS is set to commence immediately and promises to deliver exciting opportunities for budding young cricketers, those already playing cricket and fans across the county.
ENDS
About Hertfordshire Cricket
Hertfordshire Cricket is the family of organisations that exist to make cricket accessible, available and enjoyable for people in the county:
Hertfordshire County Cricket Association
Hertfordshire Cricket Limited
Hertfordshire County Cricket Club
Saracens Hertfordshire Premier Cricket League
The Herts & Essex Borders League
Broadview Windows North Herts Cricket League
Saracens Herts Junior Leagues
Hertfordshire Association of Cricket Officials
Hertfordshire Cricket Grounds Association
ECB Coaches Association - Hertfordshire
Hertfordshire Schools Cricket Association
Working together, the aim is simple - to 'Bring Cricket to Life!'
About the GRS Group
GRS is Britain's leading independent supply-chain partner for construction aggregates and waste services. From high-volume materials for major infrastructure to the widest range of landscaping products, the company handles around 20 million tonnes each year. GRS is currently the number one supplier of aggregates to HS2 as well as well-known builders merchants.
The business also offers complete solutions for the recovery and recycling of construction and excavation waste, and is a leader in the reuse of industrial by-products as secondary aggregates. Making efficient use of road, rail and marine freight to deliver bulk materials as sustainably as possible allows GRS to offer end-to-end logistics solutions. The company's contracting arm is a specialist in groundworks and civil engineering.
GRS prioritises the health, wellbeing and personal development of its 800-strong workforce and consistently ranks among the fastest growing British firms in the most respected business league tables.