.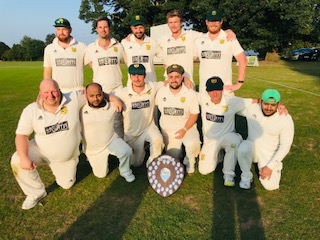 Herts Village Trophy 2021 took place at Knebworth Park Cricket Club on Sunday 5th September 2021, on a fantastic hot sunny day.
The outcome was Frogmore retaining the trophy they won in 2019 and were unable to retain in 2020 because of the covid outbreak.
There was also, a feast of runs for cricket lovers - 1029 in total.
Junaid Ashiq of Potten End cc, scoring a brilliant ton in semi-final against Watton-at-stone, including 17 fours and three sixes. His partner M Gurney hit 11 fours in 74 and a stand of 199 with Ashiq.
The other semi-final was a run of the mill match, as Frogmore defeated Flamstead by 8 wickets with 3.8 overs to spare.
A. Hussain taking 4 for 10 in his four overs totally thwarting the Flamstead innings.
The final was a high scoring affair with Frogmore's Chapman scoring 82 n.o. with ten fours and two sixes, leading the way as they posted 181 for 6 in 20 overs.
Potten End made a good fist of the chase but a good all-round bowing and fielding from Frogmore saw them winners by 25 runs.
In presenting the trophy Herts President James Wright particularly thanked Knebworth Park for providing the perfect facility on a fantastic warm, sunny day.
He also thanked the four umpires who regularly umpire Saturday league cricket without whom the day could not run so smoothly.
SCORES:
Semi- Finals
Potten End 218/4 in 20 overs
beat
Watton-at-stone 201/10 in 19.4 overs
by 17 runs
Flamstead 136 in 19.5 overs
lost to
Frogmore 137 / 2 in 16.2 overs
by eight wickets
Final
Frogmore 181/6 in 20 overs
beat
Potten End 156 / 7 in 20 overs
by 25 runs
Richard Burling
Herts Village Trophy Organiser