.
Dear All,
This week's bulletin contains information on a Defibrillator Fund, NCCA One Day Trophy Final and dates for your diary.
---
THE CLUB CRICKET CHARITY - DEFIBRILLATOR FUND

The need for this equipment has been repeatedly highlighted by the frequency of tragic deaths due to cardiac arrest on and off the cricket field. Cricket grounds are, by their nature, usually remote sites away from hospitals and not in easy reach of emergency services. There is only a vital FIVE MINUTE period before permanent or irreversible damage can occur. A portable defibrillator can be the saviour of an otherwise catastrophic situation.
In partnership with the ECB, we have supplied and distributed over 350 portable units to cricket teams and clubs across the UK. Through our supply partner The Community Heartbeat Trust, the units are available at a huge discount to real costs and include training, insurances, notification to local emergency services and post stress counselling.
For more information on the Defibrillator Fund please click the button below or email robbie.book@theclubcricketcharity.org

---
NATIONAL COUNTIES CRICKET ASSOCIATION ONE DAY TROPHY FINAL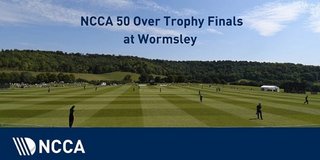 The NCCA One Day Trophy Final takes place next week on Thursday 02 September at the fabulous Wormsley Cricket Ground, in Buckinghamshire
Visitors from County Boards, League and Clubs are most welcome to attend to watch NCCA finalists Berkshire CC vs Cumbria CC battle it out in the 50 Over Trophy Cup Final.
There will be BBQ available all day with our guest BBQ expert and Ex England Cricketer, Matthew Hoggard.
For further details and to buy tickets please follow the link below.

---
DATES FOR YOUR DIARY
Tuesday 31st August (10:15 - 11:00) - Coach Development Webinar
---
England & Wales Cricket Board
28 August 2021