.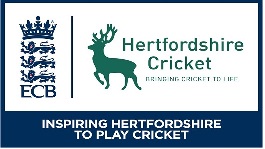 Dear Hertfordshire Affiliated club,
We are pleased to announce a new ECB funding stream has been made available for clubs in Hertfordshire to apply for.
The ECB County Grant Fund 21/22 focuses on 3 key areas.
Creating a welcoming environment

Social spaces, catering, arrival, toilets, digital
For clubs running All Stars, Dynamos, Women and Girls or Disability programmes
Providing Enhanced Facilities and Playing Opportunities for Women's & Girls' Cricket and / or Disability Cricket

Changing rooms and non- turf pitches
For clubs running Women & Girls or Disability Programmes
Tackling Climate Change

Flood, Drought, Energy and water saving
All clubs based on Strategic identification
Please note, only one area can be applied for during the period of the fund
Full details and criteria for the grants can be found on the ECB via the links below.
https://www.ecb.co.uk/be-involved/club-support/club-funding/county-grant-fund
https://www.ecb.co.uk/be-involved/club-support/creating-welcoming-environments
For any clubs that wish to discuss this further or gain additional information, we will be hosting a webinar information evening on the 8th September at 6:30pm.
To join the webinar please follow this link:
Join Zoom Meeting
https://us06web.zoom.us/j/88461160447?pwd=d1czRVJFSjkzcTJBVWRLZ1oyRmlhUT09
Dominic Chatfield
Club & Community Manager